Community Planning and Design "Best Practices" Part 1: Define Your Terms
"The value of land belongs to the community and should be used for the community's benefit."(1)
Land use and transportation policy should equitably benefit our residents, safeguard our natural and historic resources and counter climate change; not fuel land speculation. We risk precipitating serious unintended consequences if we fail to engage in "open discussion and analysis, to make clear the underlying causes of the problems that face the modern world and to discover the means for solving them."(2) In that spirit, I have developed 5 practical "Best Practices" to use when crafting a community's vision for the future (a.k.a. the Comprehensive Plan and its associated maps, herein referred to as "the Plan") and assembling the tools to implement it (a.k.a. zoning).
The 5 concepts (D.E.E.D.S.) are:
• Define,
• Engage,
• Explain,
• Design, and
• Substantiate
These represent my "lessons learned" across a 30-year career in architecture, urban design, planning and public policy.
#1. Define your Terms
Establishing a shared vocabulary (especially of new terms) that accurately describes the intention behind any given recommendation is fundamental to building public trust and acceptance. Missing Middle Housing (MMH) is one of those new terms however, that is often mischaracterized because it is so little understood. According to Dan Parolek who coined the phrase MMH, it consists of a range of multi-unit housing types across a range of affordability at the scale of a single family detached house (no more than 2.5 to 3 stories tall.) In addition to promoting more housing choice it is also intended to enable a range of transportation choice; from walking and cycling to public transit. They are "missing" because they've been outlawed by conventional zoning and have not been built by most developers and production builders for the past 60 years. They still exist however in older walkable, compact neighborhoods built before the automobile gave rise to development patterns that sprawled at one-fifth the densities prevalent in our cities and towns before WWII. The success of MMH today however, hinges on meeting the following minimum criteria. (3)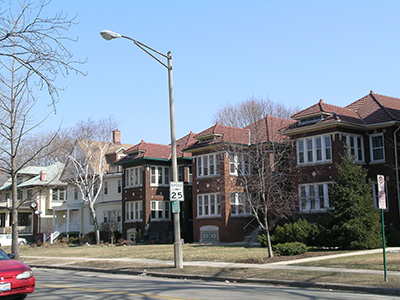 • Maintain Affordability and Compatibility. A primary goal of MMH is to provide more affordable options that fit within the physical context of a neighborhood. That means lower building heights with smaller footprints, 100% wood-frame construction, and fewer off-site parking requirements, so that smaller developers and contractors can "get in the game" and reduce construction costs/SF. Setting 3.5 -4.5 story maximums however, does not meet the definition of MMH and if put in the wrong place, will not only destroy the physical scale of older, already compact and walkable neighborhoods, but run the risk of inflating land values without contributing one unit of affordable housing.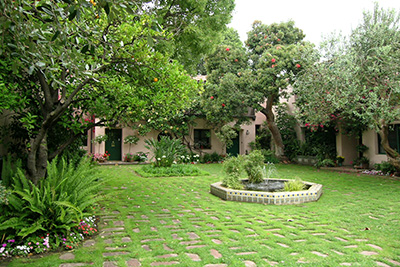 • Regulate the Entire Building Envelope, Not Just Height. The width, depth and height constitute the building envelope and they impact affordability as measured by construction costs/SF and neighborhood compatibility as assessed by scale. For instance, a 3-story building would be incompatible with a neighborhood dominated by 1-2.5 story, small footprint bungalows. A 2-story structure built out to the setback lines on two combined lots would also be incompatible with many of our older neighborhoods. The latter could explain why single-family homes recently sold for over $500,000 in two historically Black neighborhoods located within walking distance of a state university and thriving downtown in Charlottesville, VA that are experiencing gentrification pressures. (4) Regulating the building envelope may also prevent the building of massive structures surrounded by asphalt parking lots on multiple small parcels assembled over time by large developers as current zoning allows "by-right" or by Special Use Permit (SUP.)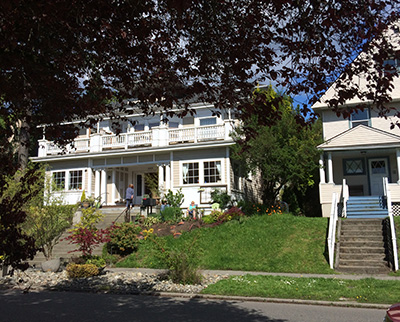 • Pay Attention to the Physical Context. MMH is used to both expand affordable housing choice and promote less auto-dependent, livable neighborhoods. When a community's vision for the future and its associated maps fail to require the conditions that make MMH work however, then affordability and a "sense of place are diminished. Those conditions include: a walkable context; lower perceived density; small building footprints with well-designed units; and fewer off-street parking spaces (we provide more space for cars than humans today than we did 60 years ago).
---
1. George McCarthy, President of the Lincoln Institute of Land Policy in the July 2021 issue of "Land Lines."
2. Ibid. Quote by John C. Lincoln, the founder of the Lincoln Institute 75 years ago.
3. Dan Parolek Webinar on Missing Middle Housing mistakes, link.
4. Sean Tubbs Reporting, July 12, 2021: Charlottesville Planning Commission briefed on public comment for C'ville Plans Together
---
Copyright, Kathy Galvin, FAIA. Galvin Architects. All rights reserved.