Community Planning and Design "Best Practices" Part 2: Engage Your Public
This is Part 2 of a 5-part series of "Best Practices"—Define, Engage, Explain, Design and Substantiate—DEEDS.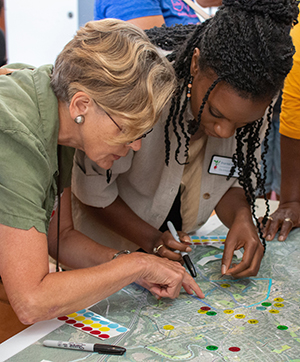 The summer air is sweltering in a packed city council chamber. Two warring camps pitched for battle over an arcane, but pervasive condition that afflicts the entire city have staked their turf. One side is dominated by earnest faith communities and restless social justice activists, bent on converting an obsolete church building into homes for the disabled and low income. That arcane, pervasive condition known as "by-right" zoning however, prohibits this noble pursuit without a change to existing law; a change so convoluted and tightly wrapped with supposedly mitigating qualifiers (a.k.a. proffers) that cutting through the "red tape" would dull Ockham's razor and mock the venerable old monk's rule of simplicity. The other side is an assorted assembly of skeptical, anxious residents who share the church's mission, but not its faith in local government. That's because proffers to developers have been granted and ignored before, just a stone's throw away. To add insult to injury, an apartment complex surrounded by a parking lot (flagrantly destroying the physical character of this walkable neighborhood of tree-lined, narrow streets and short blocks) was progressing with impunity under "by-right" zoning, another stone's throw away. The fact that none of the church's or that developer's ambitions were written into the community's vision (a.k.a. the comprehensive plan), felt like a breach of trust. After hours of heated debate, the faithful, social-justice coalition won that night, while the residents slapped the city with a lawsuit the next day.
This vignette captures everything that is right and wrong with the way American cities take care of their limited land resources; from planning and regulating to development and marketing. On the one hand, repurposing a church emptied by a shrinking congregation, constitutes the ultimate in sustainability. That's because reclaiming and reusing a neglected parcel served by existing roads and transit, instead of developing something new on pastureland miles away from public services is a key tenet of "Smart Growth." Retaining an historic structure designed decades ago with the sensibilities of a walker going 3 mph vs a motorist going 40 mph in mind also preserves the human-scale and "sense of place" of this pre-WWII neighborhood. Ensuring that marginalized and disempowered people directly benefit from economic growth in a quickly gentrifying city, meets a key measure of equitable development. This project seems to check off all the boxes for sustainability, equity and authenticity except for one critical measure: good government. On that score, this project fails miserably. Neighbors felt blind-sided by the "short circuiting" of good planning practice and saw it as a breach of trust between local government and its fellow citizens. There is no winner when a zero-sum game is played out over scarce resources and a city's sense of community and public trust are diminished. The only way to avoid this outcome is to employ the second practical "Best Practice" of five (Define, Engage, Explain, Design and Substantiate—DEEDS) when crafting a community's vision and the means to implement it.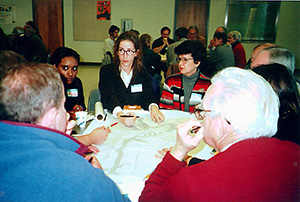 Best Practice #2: Engage Your Public
Democratic governance requires the full and active participation of an informed citizenry. That's true no matter how simple or complex the task at hand, from fixing potholes to providing high quality affordable housing without displacement within the context of healthy and sustainable neighborhoods. Now that COVID-19 restrictions have lifted, residents should be fully engaged within their neighborhoods and shown the implications of any proposed policy changes. They should also be given choices between low, middle and high "build-out" options through scenario planning, a process that can be woven into public engagement exercises such as workshops, focus groups and charrettes. A charrette is a type of participatory process that brings together citizens, officials, planners, designers and engineers to create a design and implementation plan for a specific project or area. It differs from conventional processes in that it is compressed into a short period of time, usually no more than a week, and 3-D graphics of the build-out scenarios (not just 2-D maps of land use categories) are produced. Both scenario planning (1) and a charrette (2) were used to develop a draft form-based code for a small area plan in Charlottesville, VA. (3)
• Substantiate and Visualize Sooner vs Later. This should not be left to the end of a multi-year consultant contract!
• Engage Don't Just Inform. To build trust, show the public that their input has informed the vision plan and zoning.
---
1. Scenario Planning definition, American Planning Association (APA,) https://www.planning.org/knowledgebase/scenarioplanning/
2. Charrette Process definition, APA https://www.planning.org/pas/memo/2018/nov/
3. Form Based Code Institute (FBCI), DPZ CoDesign and Partners for Economic Solutions (PES) August 15, 2019 presentation, slides 59-86 https://www.charlottesville.gov/DocumentCenter/View/2986/Form-Based-Code-Presentation—PCCouncil-Joint-Meeting-81519-PDF
Copyright Kathy Galvin, Galvin Architects, Charlottesville, Virginia. All rights reserved.